Albury based motor racing engineer Mike Elkington has turned his passion for design and engineering into creative new directions.
Take a stroll past the Albury Botanic Gardens main gates on Wodonga Place and you'll be able to take a seat on a piece of history in the shape of wine barrel benches designed by Mike Elkington.
"the brief required the seats to utilise 150-year-old wooden beams extracted from the original Fallon Cellars on Kiewa Street"
Although he's carved a career as race car engineer and mechanic, working with several V8 Supercar teams, the 39 year old has always pushed the boundaries of design and creation, which has taken him in unexpected directions.
"Growing up in Christchurch, New Zealand, my childhood is filled with memories of bringing my inventions and imagination to life," Mike said.
Moving to Australia in 2005 to pursue his passion of race car engineering, Mike worked with WPS Racing, designing and constructing V8 Supercars, before joining Triple Eight Race Engineering, regarded as the leading team in the Championship.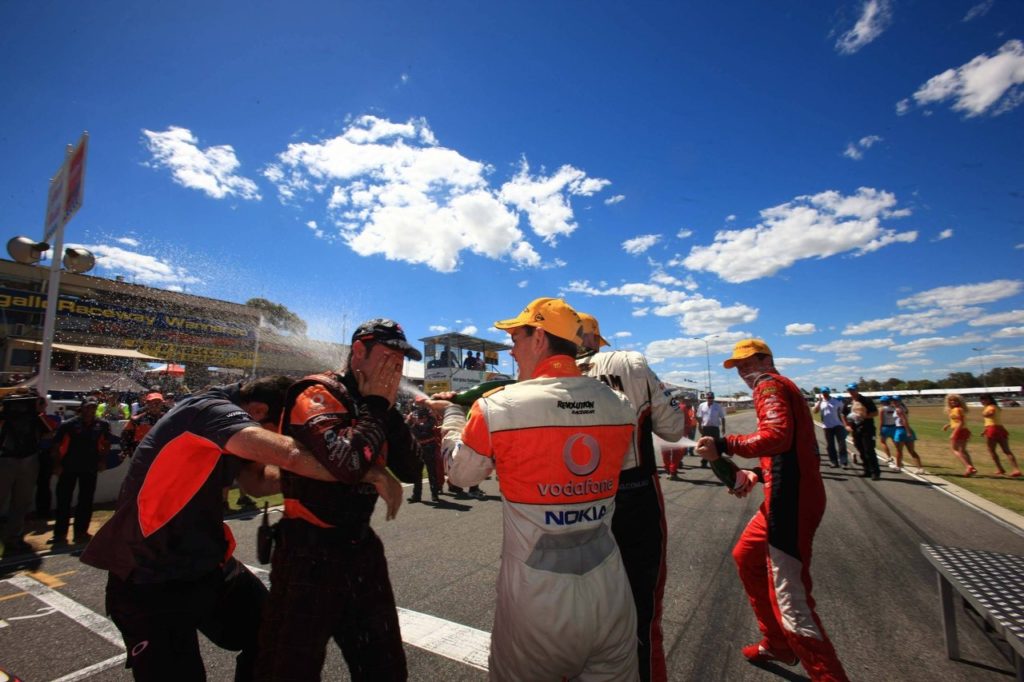 During this time Mike's natural ability to solve problems through product design lead to the conception of a plumbing tool after his friend complained about a particular issue he faced on a daily basis.
By 2010 the invention had been developed into a product called EzyGrind and now has patents in 25 countries and is sold around the globe.
Moving to Albury in 2013 his motorsport career continued with Brad Jones Racing in Albury but his desire to pursue another creative business beckoned.
Purchasing a 3D printer in June 2014 Mike started Flipside3D where he designs and creates prototypes for his client's and his own inventions.
Keeping one foot firmly in the motorsport arena Mike continues to freelance for racing teams in the Australian GT and Porsche Carrera Cup championships as a race engineer and mechanic.
"Working closely with the cars and the drivers I saw the need for some advancements," Mike said.
"This led to the development of new helmet fans, foot fans, cool suit dry breaks, quick release drink and radio connections and a seat belt retracting systems using my 3D printer and CAD skills."
They are all now sold under his latest commercial brand, Rampage Race Products.
While seemingly humble in comparison to many of his lofty achievements, his design of wine barrel seat benches at the front of Albury Botanic Gardens remains a source of pride.
"It was a design project I really enjoyed," Mike said.
"As part of Albury City Council's Urban Art and Public Strategy the brief required the seats to utilise 150-year-old wooden beams extracted from the original Fallon Cellars on Kiewa Street.
"As locals would know, the Fallon name is synonymous with the region's history as James Fallon was Albury's first Mayor and also a successful vigneron and wine merchant.
"From 1869 his cellar on Kiewa Street was the scene for many local celebrations and my chosen design was inspired by the red gum's history," he said.
The realm of 3D printing inspires Mike as a technical advancement of the next generation that allows synergy between the physical and the conceptual worlds. Pushing the boundaries of imagination is what truly motivates him to invent.
For more on Mike Elkington's Rampage Race Products visit www.rampage.store
Or to see more on his product development and 3D printing check out http://www.flipside3d.com.au