Malibu Boats are always turning heads over summer out on Lake Hume and other waterways.
While most of us can only dream of owning one, I was lucky enough to enjoy a tour of their Albury factory to see how they're built – which probably wasn't the smartest idea!
Malibu Boats has certainly come a long way.
When I was a sports reporter for Prime News in the mid 90's, I often went to Brad Jones Racing's workshop in Albury to conduct interviews on the motor-racing team.
At the time, there was a small one-man boat building shed next door, run by Xavier West.
Reaching an agreement with Malibu Boats California to build their boats in Australia, his humble business went on to become the Malibu Boats of today, employing around 70 locals (including my brother and sister-in-law) and manufacturing an average 7 boats a week!
Xavier West had a vision to build the best boats in Australia and provide new, modern designs that were of a much higher quality than anything else on the market.
After enjoying a tour of the factory as part of a family and friends tour, I can see why.
Malibu prides itself on producing premium quality 'hand-crafted' boats and at every point in the production of a single Malibu Boat, there's plenty of 'love' shown by the staff.
There are so many stages involved in producing their ski boats, such as mould preparation, which involves cleaning and prepping by hand, through to gel-coat application, several stages of lamination of resin and fiberglass and that's just for starters.
The attention to detail in everything, including the individually machine stitched seat cushions and upholstery is a process that isn't rushed, with each boat taking three days to produce to the highest quality featuring exclusive designs and innovations (too many to mention).
A big thanks to Malibu Boats for opening up their doors to the family and friends of their staff.
Around 250 of us thoroughly enjoyed the day and we have a new appreciation for all their skills and hard work.
It was a tour capped off with some rides with the finished product out on Lake Hume – I think I could happily be in charge of quality control!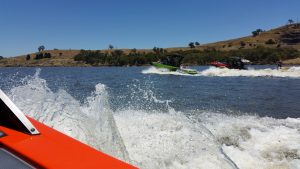 Who would have thought we could comfortably fit our group of 12 people on one of their Malibu boats for a high powered blast on the water? Our driver even showcased the foot warmer!
Now I have sampled the most popular and desirable boats in Australia and seen how carefully they're hand-crafted, it's going to be a long, envious summer hanging out at the weir!
For more on Malibu Boats, visit their website www.malibuboats.com.au