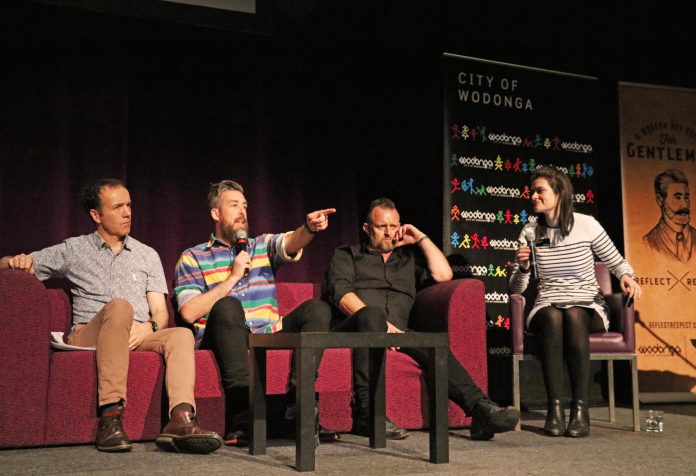 Positive masculinity is a matter of life and death, according to journalist and former advertising man, Phil Barker.
Barker is the author of the book, "The Revolution of Man – rethinking what it means to be a man", one of three top-notch speakers brought to town by Wodonga City Council as part of a community event titled, "Thinking Outside Of The Man Box."
The 100-plus crowd at The Cube was silent as Barker recalled how he had hit rock bottom a few years ago after his successful business went belly-up, for reasons beyond his control.
Bogged down by burdens he never expressed at the time, Barker says he came very, very close to becoming one of Australia's shocking suicide statistics – on average, six men a day take their own lives.
Barker takes the subject of masculinity in business up a few notches and refers to former media bosses he's worked under as an editor, big names such as the Packers and the Murdochs. Big names don't hit rock bottom like the rest of us, surely?  "Money is such a big part of the performance of being a man," Barker says.
The secret to happiness, he believes, is not from money but rather "deep, rich relationships."
To be honest, as one of three girls raised by a single mother, I'd never thought deeply about the importance of male identity, gender roles and positive male relationships …until I had a son, now 14.
I do remember a bit of sinking feeling of raising a boy when we found out in-utero – I was hoping my partner would take the lead. After all, he had been a boy himself.
Quite by accident our son was given a gender-neutral name but without really thinking about it, his nursery became coloured-in with mainly blue things and cars and trucks for toys. (The line was definitely drawn at toy guns, however at age three he made one out of a strand of spaghetti and attempted to 'pew pew' everyone at the dinner table).
We didn't consciously impose gendered anything on our son – something that is always raised as a social construct rather than a natural choice – but we didn't consciously avoid it either.  It's how I was raised myself and I settled into being more of a tom-boy than a pretty-in-pink girl.
Thinking about it now, though, the baby doll I was given was from an Aunty in Germany, a country a little more progressive at the time.
The doll was a boy, something you could tell every time you changed its pretend nappy.  So does this explain why I spent more time playing with the neighbourhood boys than girls, or why my workplaces have always tended to be male dominated or why I have as many male friends as female friends?
Not sure, but what I do know is that I hung on every word at the Wodonga Council workshop, admiring the research of Associate Professor, Dr Michael Flood, and the research findings of a recent study on being a young man in Australia, titled "The Man Box".
The 'box' is a metaphor for social expectations about what it is to be a man. So the theory goes, young men inside the Man Box are those who endorse these Man Box rules.
According to the findings, these are also the young men who report "poorer levels of mental health, are more likely to engage in risky drinking, to be involved in car accidents and to report committing acts of violence, online bullying and sexual harassment."
Tom Bell, who has a business called Tomorrow Man, gave a condensed version of the workshops he is commissioned to run for high school students and men in big-league sporting clubs.
He encourages big and little men to have the confidence to express themselves on their own terms, not according to peer pressure or the expectations of others, or at least that's how I took it.
Therefore, I encouraged the men in my house to attend Tom's evening session, held at Wodonga Bowling Club and both father and son came home with a bit of spring in their step.
I was desperate to find out from my son what he thought but it would seem he was more expressive at the workshop than back at home.
"Do you think it's a good idea for men to share their problems with other men?", I asked.
He shrugged his shoulders, paused, then replied: "I think it's a good idea for everyone to share their problems with anyone."
Not a bad start, hey?