Here's a tempting Easter treat idea, courtesy of Campbells Wines, for those who can't get enough of Hot Cross Buns.
This festive dessert idea uses Campbells Rutherglen Muscat to take it to that indulgent next level. Only three ingredients necessary!
INGREDIENTS:
6 Hot Cross Buns (we used ones from our friends at Nord Bakery)
1 litre of vanilla ice cream
100ml of Rutherglen Muscat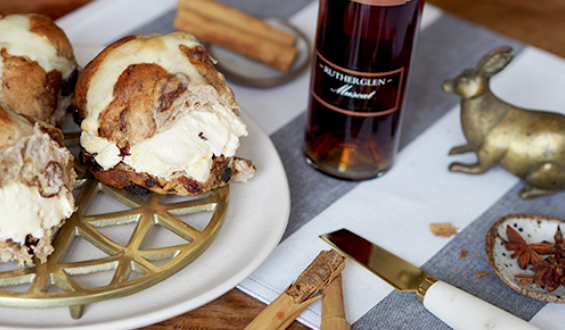 METHOD:
STEP ONE: Slice Hot Cross Buns in half (lengthways) and toast to your liking.
STEP TWO: Whilst your hot cross buns are toasting, mix the softened vanilla ice cream with the Rutherglen Muscat in a mixing bowl.
STEP THREE: Once the buns are toasted, place one scoop of ice cream onto each hot cross bun.
STEP FOUR: Serve and enjoy! Easy and delicious.
For more information visit: https://www.campbellswines.com.au/hot-cross-buns-with-muscat-ice-cream/