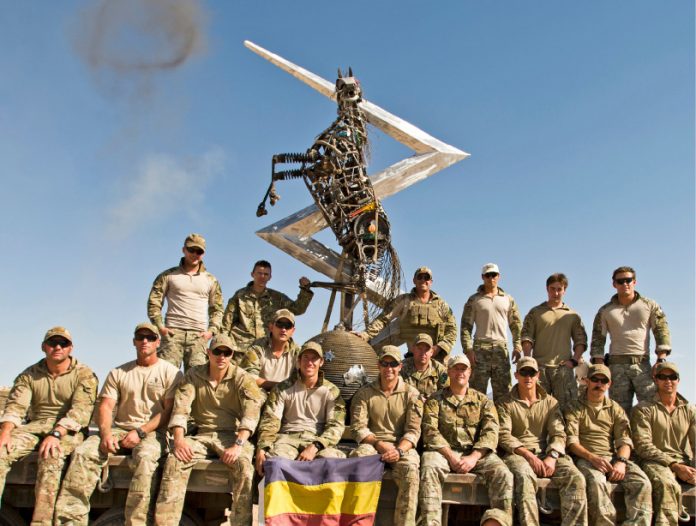 He's just completed a round trip across the Nullarbor for a special mission, but the Bandiana Army Museum's most decorated military sculpture is accustomed to long-distance travel.
Hand-crafted from scrap metal, automotive parts and tools in Afghanistan by off-duty soldiers from the Royal Australian Electrical and Mechanical Engineer Corps, the several-ton artwork known as 'Harry' had to be cut into four pieces and reassembled for the 11,000km trip home with his creators.
Since then his imposing presence as a 3D replica of the RAEME military Corps badge has been a crowd favourite at the iconic Wodonga museum, the largest in the Army History Unit and second only to the Australian War Memorial in Canberra.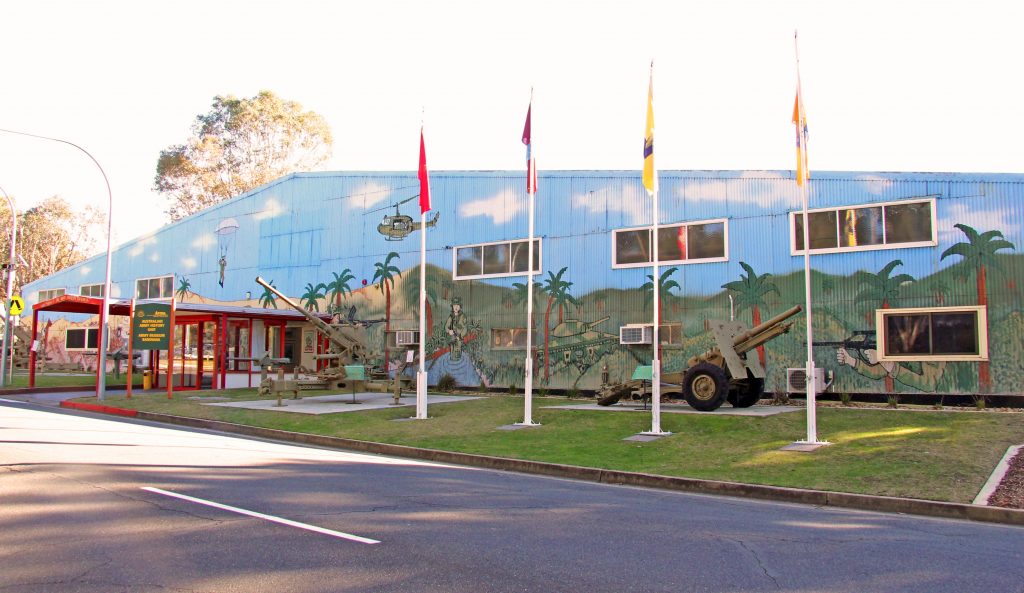 Harry was recently given permission by the Army History Unit to leave his local admirers and head to Perth as a display for a commemorative event of the Special Air Service Regiment, for which the RAEME Corp provides mechanical support as the Special Operations Task Group workshop.
But Harry is more than just a show-pony, he is also a powerful reminder of the significant contribution local defence personnel make on the global stage and the enormous personal sacrifice involved.
"People are always amazed when they see Harry," said Warrant Officer, Peter Laggan, who also did a tour of Afghanistan in his 38-year military career and has been 2IC at Army Museum Bandiana for the past six years.
Trench art from both world wars – including painted artworks and engraved ammunition casings – has long been appreciated for its historic significance, but more modern artworks like Harry are now gaining greater prominence for the deeper role they play in Army life.
"On Operations you go from periods of extreme activity to times that things are quiet and you miss your home and family," Warrant Officer Laggan said. "There are some very creative people in the army."
A new 'Digger art' section is being planned at the museum to add to the approximately 7,500 piece collection on public display (only about a third of the total collection), the quality and extent of which makes the museum one of Wodonga's most popular tourism destinations and recent winner of a Trip Advisor award.
Attracting thousands of visitors each month, it is located in a former WWII warehouse at the Gaza Ridge Barracks in Bandiana and open to the public at a small fee, three days a week by 24-hour advance appointment – something that is currently unavoidable because it is located inside an active army base.
The display focuses on the history of the many specialist corps based at Wodonga  – RAEME is one of a long list, including Odnance, Transport and Medical – and also includes the most complete Land Rover collection in the southern hemisphere.
Once through the doors, first-time visitors have one thing in common, according to Warrant Officer Laggan.
"The response is always positive and people are always overwhelmed," he said.
Such is the detail and extent of the collection, Warrant Officer Laggan said it isn't unusual for visitors to spend several hours on one day, and return the following day for another visit (Border Cafe will definitely be back soon…so many stories to tell).
The "small but passionate" military team is supported by around 40 volunteer guides and helpers, some who have a professional military background and others who just enjoy being a part of the museum community.
To make a museum booking or enquire about joining the volunteer team, see contact details below:
Location: Gaza Ridge Barracks, Murray Valley Highway, South Bandiana
Ph: (02) 6055 2525 
Email: [email protected]
Open: Tuesdays, Thursdays and Saturdays between the hours of 10:00 am to 2:00 pm only. 
Details: https://www.army.gov.au/our-history/army-museum-network/corps-museums