Eurogliders and Chocolate Starfish will join three other respected artists and bands who are donating their time for a charity concert in support of drought affected farmers at the SS&A on Sunday 2 December.
All proceeds raised from the concert, which also includes Sara Storer, The Chantoozies and Danny Phegan, will go towards the Burrumbuttock Hay Runners, one of the early pioneers of recognising how desperate drought stricken farmers are across the country.
Founder of the Burrumbuttock Hay Runners, Brendan Farrell says it's crucial that the Hay Runners continue to get support for desperate farmers.
"I fought like cats and dogs for years, telling people the drought was devastating and no-one was listening," Brendan said.
"All of a sudden it hits Dubbo, Tamworth and other major electorates and it just went berserk. People think the drought has only been going for the last six months. It's been going seven years.
"Our first hay run was in 2014, in Bourke (NSW) and it was like going to the moon, and it hasn't changed one bit. The only thing that's changed is the morale of people – they're tired and the stock numbers have dropped but it's still as bare as bat shit."
With other charities in support of drought stricken farmers emerging, Brendan is particularly proud that the SS&A has chosen the Hay Runners as the recipient of their charity concert, with their next hay run scheduled for January in 2019.
"On the Australia day weekend, we're going to a little place called Quilpie and onto Charleville, and also some hay will go Thargomindah and Eulo, some little destinations that haven't seen rain for a while.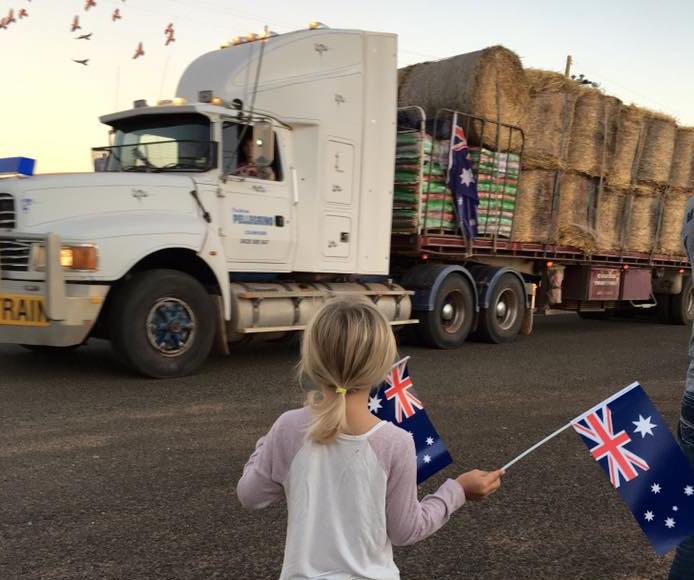 "I go in the outback where people don't know that there's people there half the time. I want to make sure these farmers are known and not forgotten."
Brendan is thrilled that with so many other drought charities emerging, the SS&A and five major bands and artists have chosen the Hay Runners, with all money raised paying for fuel for trucks to cart hay.
"The way the club wants to do it is fantastic and it's actually a privilege to have someone like the SS&A come on board and say, 'this is what we're going to do for the Hay Runners'."We're not a registered charity, we started with a truck and an idea. My motto is you don't have to be a charity, just get off your arse and do it.
"We hope to raise in excess of one million dollars, and every damn cent of that goes to fuel, which is such a big expense. The more fuel we have, the more trucks we can organise.
"It's easy to show the Australian people where their money is going when they see three or four hundred trucks in a convoy on the road."
Bob Harris, Events and Entertainment Manager at the SS&A says both the SS&A and the five bands and artists donating their time wanted to ensure the Hay Runners could maintain the important work they do for farmers.
"We spoke to Brendan a few months ago and discussed the idea of a charity concert and he said the Hay Runners were getting a little lost in all the white noise from other drought charities that were emerging," Bob said.
"We wanted to make sure the Hay Runners weren't forgotten because they do an amazing job every year, so we thought we'd get behind them in organising this event.
"All the performers are donating their time, and if there are expenses involved in getting them to Albury, the SS&A will wear that. Everything we make out of the ticket price is going to the Hay Runners."
For details on the concert on Sunday 2 December featuring Eurogliders, Chocolate Starfish, The Chantoozies, Sara Storer and Danny Phegan visit http://www.ssaclub.com.au/whats-on/special-events/
For those who can't attend the concert, but want to support the Hay Runners, McRae Motors has donated a 2018 Holden Barina that will be raffled and drawn on the night. Purchase tickets at SS&A reception.
Produced by Border Cafe in partnership with SS&A. 
Keep up to date with more positive stories like this from the Border and North East by signing up to our free weekly newsletter, direct to your inbox here.