If you love music, classic cars, food & wine and art exhibitions we've got you covered in our hit list of five things to do this weekend.
Live Music – James Oswald, Albury
The Man, The Guitar, Whisky and a Barber's Chair. Local legend James Oswald is playing at Two Fingers Gentlemen's Barbershop & Bar tonight Friday 3 May.
Front man for Midnight Alibi, and having supported artists such as Russell Morris, The Choirboys, Bad loves & Rise Tattoo, this up-close and live with James Oswald will Be a show not to miss.
Doors open at 4:00pm, James plays from 7:30pm.
Details: https://www.facebook.com/iifingers/
Classic Cars – Drive Back in Time, Beechworth
Up to 250 rare, classic and vintage cars and motorcycles will converge on the historic streets of Beechworth, courtesy of the Beechworth Old Cranks Motor Club.
The event has grown to become one of the region's most popular car show and cruise events with participants coming from around Victoria as well as interstate.
On Sunday, visitors will be able to view the incredible array of pristine cars and motorbikes lined up either side of Ford Street in the Historic Precinct area of Beechworth which is closed to traffic, as well as vintage engines displayed in the Police Paddocks. Gates open at 8:00am and entry is free for the public.
Details: http://beechwortholdcranksclub.com/
Exhibition – Wetlands Wanderings, Wodonga
An exhibition of Wetlands Wanderings is on show at GIGS Art Gallery and Studios, Gateway Island.
A display of beautiful colours and reflections, Chris Ellis takes visitors on a journey through the wetlands of Victoria and New South Wales.
Chris works use the beautiful colouring of the eucalyptus leaves and the reflections of the water to transport you on a walk through the wetlands.
Details: https://www.gigsgallery.com.au/project/wetland-wanderings/
Cycle, Food & Wine – Tweed Ride, Rutherglen
Rutherglen's quirky Tweed Ride returns for its tenth year, bringing with it all the three piece suits, flat caps, skirts and penny farthings you will need for your complete vintage experience.
The event includes 20 kilometres of gentle cycling through glorious wine country interspersed with three incredible food and wine experiences with lunch at Stanton & Killeen.
Participants will be heading down some dirt roads – all terrain bikes are most suitable
Details: https://www.feasthighcountry.com.au/listing/tweed-ride-rutherglen/
Arts & Culture – Riverine – en plein air, Wodonga
Enjoy landscape paintings from the Upper Murray to the Lower Riverland at Arts Space Wodonga.
This joint exhibition by Alison Percy and Kim Passalaqua reveals a unique narrative across the riverine landscape. An artist's residency in the remote Clare Valley, South Australia became the turning point in their approach to landscape painting and inspired this exhibition.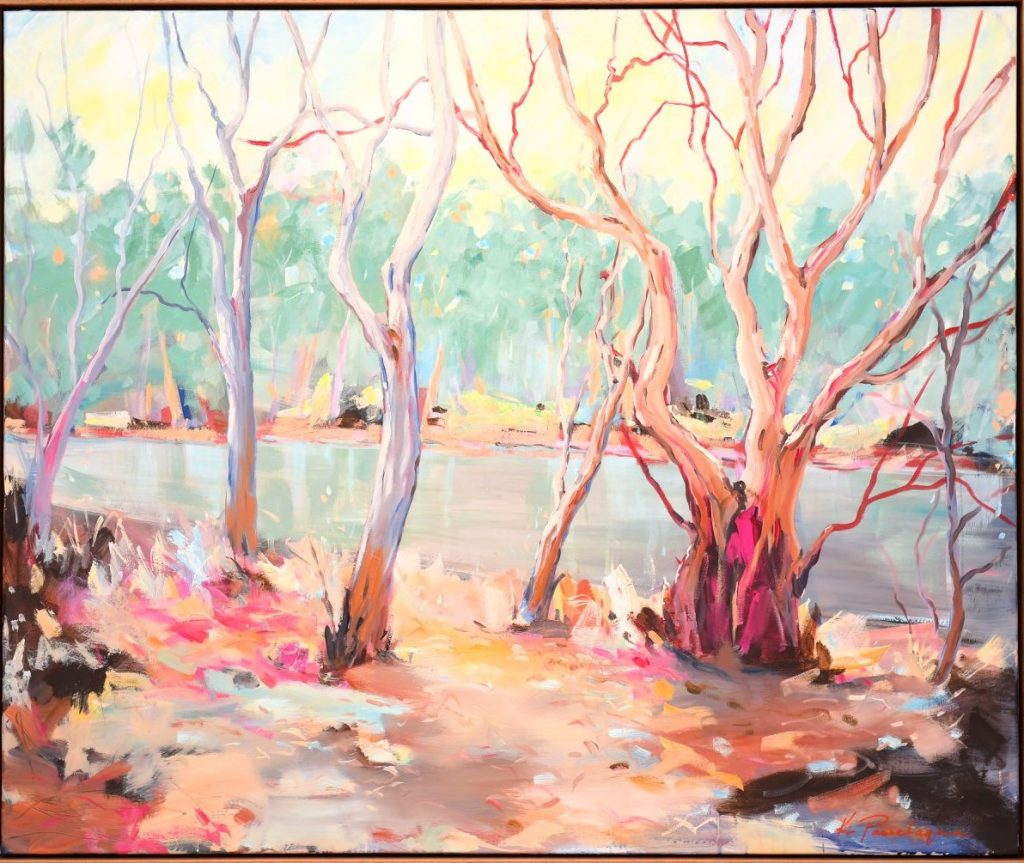 This new body of work is a journey focused on capturing unique traits in and around the localised land and river with plein air paintings. This body of work explores similar features in varied environments along the river landscapes.
Details: https://www.facebook.com/ArtsSpaceWodonga/
What's On – Extra (from our Border Cafe partners)
Live & Free, The Studio @ SSA
Fri May 3 – Disco Divas
Sat May 4 – Mentals as Anything
Fri May 10 – The Lou Reed Show
Sat May 11 – Big Unit
Fri May 17 – Catnip
Sat May 18 – Red Belly Black
Fri May 24 – Dancing in the shadows of Motown
Sat May 25 Bogart's Call
Fri May 31 – Burning Down the House – Talking Heads Show
Details: http://www.ssaclub.com.au/studio/
What's On Soon
King Valley Balloon Festival, 7-10 June
Details: http://www.winesofthekingvalley.com.au/events/king-valley-balloon-festival/
Like to keep up to date with What's On and lifestyle news from the Border & North East?  Sign up to our free weekly newsletter here and we'll deliver direct to your inbox!