A pilot who has flown hot air balloons over the Swiss Alps, Austrian Alps and Italian Alps says the beauty of our own King Valley region by air is also a spectacle to behold.
Ruth Wilson has been involved in the sport of hot air ballooning for more than 40 years and is one of several pilots who can't wait to be part of the King Valley Balloon Festival from 10 – 13 June.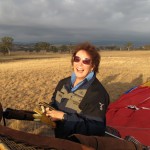 "Flying over the King Valley countryside offers so much joy," Ruth said.
"There's lovely mountain views, misty mornings and of course plenty of prosecco after we land. There's so much to experience and appreciate."
Ruth encourages visitors to the King Valley Balloon Festival to experience it for themselves across the Queen's Birthday long weekend, as part of the region's Weekend Fit for a King celebration.
"I love the feeling of freedom in the sky, where you leave all your earthly responsibilities behind," Ruth said.
"You see a lovely 360 degree view of nature below. You can see the whole story of the river through the countryside – it's just an uplifting, open your chest, feel your emotions, feel your heart experience. In a plane, we move fast, but in a balloon basket, the wind is slow and it's all yours for the taking."
The festival offers opportunities for daily flights, as well as a once-in-a-lifetime experience of lifting off with the flotilla of festival balloons and drifting through the skies together.
Organisers have also announced a Pilots' Farewell Dinner on Sunday 9 June at King River Brewing with starters, wood-fired pizza, and beer brewed on site.
There will be live music, and the opportunity to chat with balloon pilots about the sport – or art – of hot air ballooning. If the festival events have ignited your enthusiasm, this is the perfect way to round out the weekend.
Sunday 9th June, 5pm – 8pm. Bookings required. $30pp includes starters, pizza and a beer.
The booking link for the Pilots' Farewell Dinner, and all info about the festival, can be found at www.kingvalleyballoonfestival.com.au
Produced by Border Café in partnership with King Valley Balloon Festival