Gateway Island on the Lincoln Causeway between Albury and Wodonga is growing its reputation as not only the home of visual and performing arts, but a place where visitors can contemplate nature, enjoy a meal or coffee and investigate ways they can lighten their environmental footprint.
For this occasional series on businesses on the 'island,' Border Cafe visited the artist run community collective, GIGS (Gateway Island Gallery and Studios) and spoke to its new coordinator, Erika Grimes, about her change of career, life as an artist and the push to give local artists a higher profile.
Erika, you're originally from Alaska. What brought you to this region?
I came to Australia a number of years ago to close down a defence industry project and fell in love with Australia. There was no money in the world that would make me go back to the US.
Then more recently my sister who lives here with her five kids needed a hand. They're hitting puberty and with three of them with Asperger Syndrome she needs all the help they can get. So, this gave me a reason to come here to the area.
Has art always been part of your life?
No, and my life now is a long way from my previous work. I felt my art calling me for a long time and have managed to survive on my art for the past five years. I decided on private tutorials to develop my skills.
What mediums do you work in?
I mostly work in oils, and having grown up in Alaska am very inspired by the Aurora Borealis and Nebulas. I do large nebulas and they're basically abstract but there's a lot of colour and movement in my paintings.
There's a very lively visual arts scene here. What is GIGS role in this scene?
Yes. Everywhere you turn around there's something new, so I'm really, really happy with this area and always surprised at what I find, like the sculptures along the river and the different art groups and The Cube and MAMA (Murray Art Museum Albury) and Art Space Wodonga
GIGS is an artist run studio so it really prides itself on helping existing and emerging artists. There's definitely a need. It's difficult for an artist to get shown and it's a lot of hard work, so having the resources we have is very important.
Most of our volunteers are artists or are involved in the arts in some way so they can give guidance – we have people here on weekends and are happy to talk to artists about their artwork.  Also the studio artists are usually here on the weekend and again are happy to talk to people.
Artists can also volunteer because you are exposed to all aspects of running the gallery and hanging exhibitions.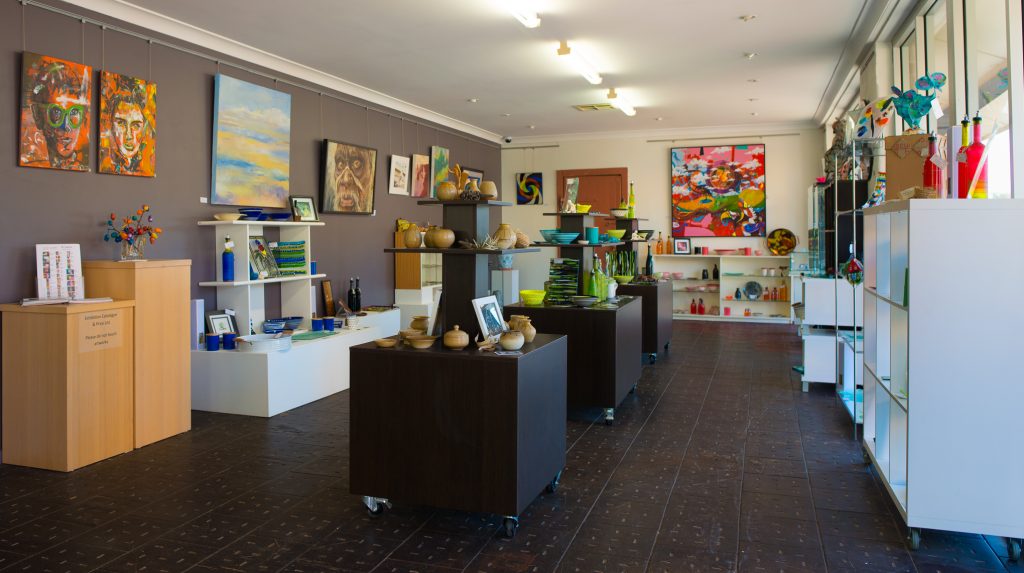 You're also extending your reach to educational institutions, hospitals and other groups in the community.
We're working very closely with Wodonga TAFE in the new Certificate IV in Visual Arts and have delivered a couple of guest lectures for them. They also did a tour and they'll have their end of year exhibition here and will help to hang it. So over the next year or so they'll come and learn all about the art industry.
We're also very excited about our inaugural GiGS Award for Student Exhibition (GASE) and competition that includes work from many of our local primary and secondary schools in the Side Gallery through April.
We've applied for funding for a project where we'll take art into hospitals giving people the opportunity to do art activities while they are inpatients; we're opening the gallery after hours when there are lectures by the Australian Decorative and Fine Arts Societies (ADFAS) next door at The Butter Factory Theatre and also aiming to have more evening events including wine tastings or perhaps business social functions.
The more people we can have come through the gallery, the more we can profile our artists and get their names out there.
How important is social media to also achieving that aim?
It's vital. We've joined Instagram and ramped up our Facebook presence. Some people may not like it, but as a gallery these visual social mediums are a great way to show what we have to offer in exhibitions and also the beautiful range of works in our consignment shop.
For more information visit www.gigsgallery.com.au