To some people, pole dancing may still be considered slightly taboo, but for a growing number of Border residents, pole is a creative and fun filled way to get and stay fit.
Pole fitness has become more popular in the past few years, with numerous competitions, camps, festivals and even cruises taking place each year.
"I think people are starting to recognise it for the strength and fitness that it takes"
PhysiPole Studios Albury local studio owner, Zoe Porch, has been poling in Albury since 2009. She came to PhysiPole just after the franchise opened its only New South Wales location in August 2015.
"I was dancing and teaching at another studio and saw it as a personal opportunity to grow and go further," Zoe said.
"I loved that PhysiPole had a structure and a syllabus with strength training and has set goals that that you achieve as you come into class," Zoe said.
Zoe stepped into the role of studio manager not long after she began teaching at the Lavington location, before taking the next step of becoming a business owner in January 2017.
Zoe acknowledges that pole fitness may still raise a few eyebrows, but she says that's changing.
"There is still definitely a lot of stigma around it but it makes us a little bit thick skinned as well. There is a growing shift in people's attitudes.
"Now when I tell people I pole, their response is, 'Oh wow, that must take heaps of core strength,' or 'You must need a lot of upper body strength to do that.' I think people are starting to recognise it for the strength and fitness that it takes." Zoe said.
Business has grown a lot from the early days with only a few pole classes three nights a week to offering pole classes which focus on learning tricks on static and spinning poles; strength, fitness and stretch classes; aerial hoop; and dance classes Monday through Saturday. There are classes for all ages and fitness abilities, and you don't have to have upper body or core strength to take a class.
"You don't have to have a dance or gymnastics background to come to pole. The Ballarat studio has someone over 50," Zoe said.
When she's not teaching pole and strength classes, you will likely find Zoe training for a competition.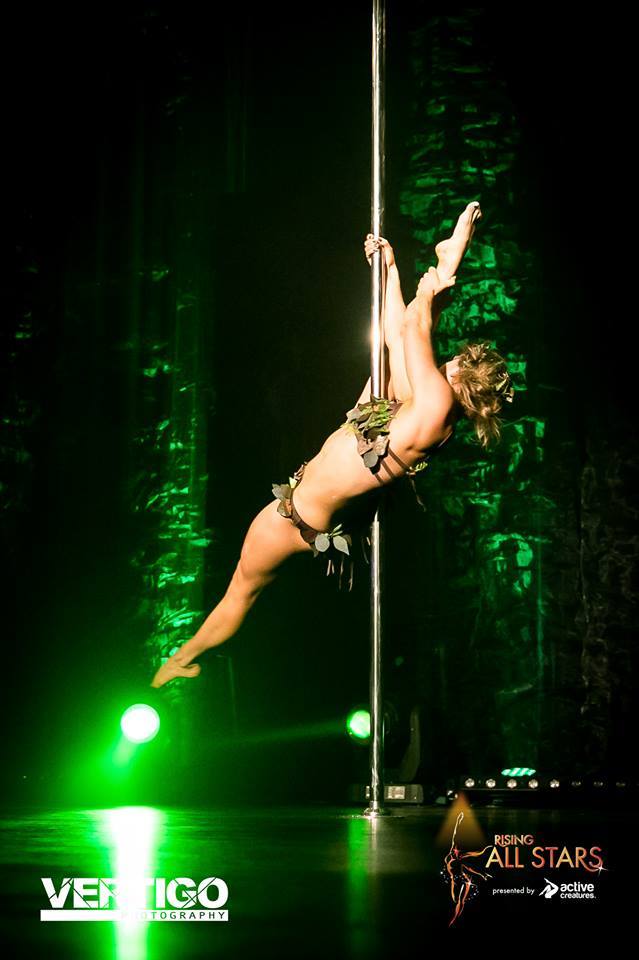 In April, Zoe took home the People's Choice Award from the Rising All Stars semi-pro competition in Melbourne, and last year she won the advanced division in the in-house competition, Ignite, just for PhysiPole students.
"I haven't entered any other competitions yet this year, but there are a couple on my radar. There is a regional competition in Shepparton, the Regional Pole Artistry Championships that I'm thinking might be cool," Zoe said.
"There is a lot about the pole world that people still don't know about. We do have all these competitions and styles and elements to pole. You can really find your own and do whatever you want."
"My challenge for this year is I want to get a male pole dancing"
On top of being a business owner and award winning poler in her own right, Zoe is furthering her passion for health and fitness as a full-time Bachelor of Physiotherapy student. Currently in her second year, Zoe says that she can apply what she is learning at university to the way she teaches pole.
For Zoe, the best part of poling is helping people get fit and feel confident with who they are. Despite how busy she is, most days don't feel like work and she enjoys sharing the empowerment that pole can bring to people.
"[Pole] is such a love and passion for me and I want to spread this empowerment to other people and see these women, and men, come into this environment and after a few classes, they see the change and the shift and see their bodies doing things they never thought they could do, which for me is the best bit.
"My challenge for this year is I want to get a male pole dancing, we just need to get one to break the mould and then hopefully a few will come," Zoe said.
Eight week terms run throughout the year and at the end of each term students are assessed to see if they are ready to advance to the next level. Everything from the way moves are taught to the order in which tricks and move combinations are delivered is developed with safety and strength building in mind.
For more information on PhysiPole Studios Albury, visit their website: http://physipolestudios.com/albury