They say 'the family that plays together stays together,' but for the team behind Beechworth Designer Gifts it's the creativity of three generations that keeps this family thriving.
Beechworth Designer Gifts was originally the Beechworth Co-op: a showcase for the work of the first generation of Pierce creatives, Ric and Judy of One Tree Hill Pottery.
The Pierce's have been potters for more than 30 years and have exhibited their work in countries including Australia, France, India and the USA.
Creativity sprung up in the next generation with son, Adam and daughter-in-law, Corrie founding Metal Tech, and daughters Jacqui Pierce and Samantha Hart combining to found Imagine Ellie.
Now the third generation of creators – seven of them under seven – have contributed their imagination to the design of a range of products including iPad pouches to dragonfly brooches.
Metal Tech was established in 2015 and produces a range of plasma and metal creations from small animal objects through to large sculptures; Imagine Ellie pieces features a playful female character, Ellie created by Jacqui and given life on a range of products from coasters to wine coolers and sunglass cases by Samantha, and Kids Stuff by the seven grandchildren.
Corrie who has worked at Beechworth Designer Gifts on and off for 14 years says while each of the families make their own range of products and contribute to the quirky, unique and individual nature of the business, the 'family' in the family business gives it its strength.
"We're spread out between Beechworth, Wodonga and Melbourne but a couple of times a year have the chance to get together," Corrie said
"We take part in the Easter Parade in Beechworth each year and come up with a new design for t-shirts for the kids to wear.
"And then there's the annual family holiday at Cape Conran. We're on holiday but there's lots of discussion about new possibilities for products and as the children get older their contribution to their product range will probably be greater," Corrie said.
Corrie said initially the children had looked at selling their products as a way to make some pocket money, but donated money to the Royal Children's Hospital in Melbourne.
"As a family we have a philosophy of philanthropy and sustainability. It's great to see the kids willingly be part of this," Corrie said.
And while the younger generations have initiated new product ranges, matriarch, Judy Pierce isn't resting on her laurels and has created her Tall Figs range inspired by her varied lifestyle and now available throughout Australia.
Judy and Ric now spend their time between Beechworth Designer Gifts, time with their three children and their families including the seven grandchildren, beaching, caravanning and golfing.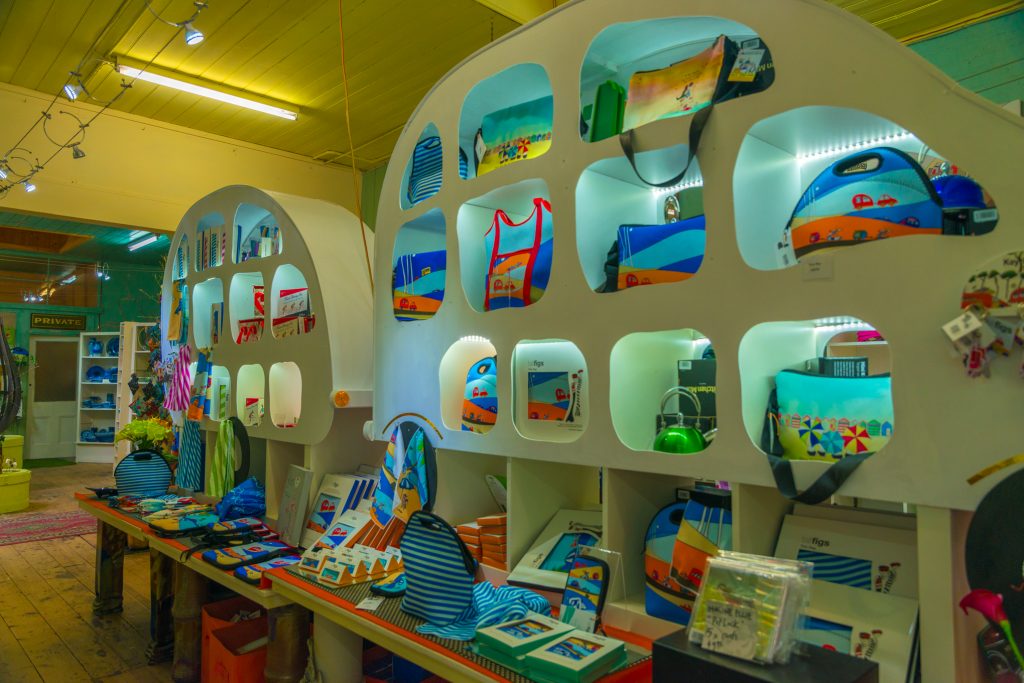 Judy has created a range of bespoke designs for each situation including the 'jig sorter' with six trays in a zippered neoprene case featuring the caravan design that can store up to a thousand jigsaw puzzle pieces.
For this family, it appears creativity knows no boundaries.
Beechworth Design Gifts
56 Ford Street, Beechworth
www.beechworthdesignergifts.com.au