There's still some bite left this winter. Whether you're tempted to enjoy the warmth and crackle of an open fire, wrap your hands (and taste buds) around a bowl of home-made soup, or devour one of 40 choices of luscious hot chocolates, here are some winter warming destinations that will have you rejoicing the cold weather in Albury!
Fireside Hangout at Two Fingers Barbershop & Bar
When it's cold outside, you can be guaranteed the fire will be roaring at Two Fingers Gentlemen's Barbershop & Bar in Smollett Street.
The striking 'hunting lodge' feel of the café and bar has been a labour of love for owner Chris Maney, who discovered the bonus fireplace during building works.
"When we did the renovations, we found the fireplace had been boarded off and the chimney knocked off when it had been re-roofed," Chris said.
"We rebuilt the chimney and restored the fireplace. Now we look forward to that day every year in winter when it gets cold enough to light the fire. It creates that homely atmosphere."
Patrons enjoy barista made coffee from 6:00am from the café, and the bar is the perfect place for a quiet whiskey or cocktail Thursday, Friday and Saturday nights. The venue sometimes transforms into a piano bar, features a solo artist on guitar or includes a stand-up comedian.
Hot Chocolate Galore at The Chocolate Labrador
There's more to hot chocolate than the milky brew your grandma used to make. There are 40 different flavours of hot chocolate to choose from at The Chocolate Labrador in Olive Street.
Owners Jennifer and Rebecca Mamouney proudly encourage to visitors to cuddle up inside with a cup of hot chocolate, made from world famous good quality Belgian chocolate.
"A nice cup of hot chocolate just warms your soul, doesn't it?" Jennifer said.
Plain milk hot chocolate is still popular, but it seems our tastebuds have opened up to more inventive combinations.
"One of our most popular hot chocolates is a chilli and ginger combination," Jennifer said.
"Dark chocolate is a good seller, as well as mint, hazelnut, rose and black pepper. We also have a chocolate dip, which features warm melted chocolate, surrounded by strawberries that are fresh and cool for dipping. It's a lovely combination.
"If it's cold, doomy and gloomy and you don't feel like getting out of bed in winter, getting out for a hot chocolate just makes the day better," Jennifer said.
Winter Styling at Pillow Talk
If you're looking to add winter warmth to your home, the team from Pillow Talk in Olive Street can help with some styling advice.
When it comes to trends for bedding, Manager Helen Drummond says jewel tones are the popular colours of the season.
"Rich burgundies, emerald greens, mulberry and mustard colours – anything that's deep and rich are the colours for winter," Helen said.
"Charcoal is always on trend and is a good base where you can add a lot of your colours and layers to it – furs, heavy knits and woollens. Anything that helps make your bedroom look warm and cosy."
Creating warmth in the lounge room is all about texture.
"With your throws it's about weight and having those layers," Helen said.
"Faux fur is always on trend in winter, anything that is quite tactile and feels great and looks plush to create that warmth. You don't have to go overboard with layering, just accessorise with what you enjoy in the home and makes you feel good."
A Soup Kitchen at Get Tossed Salad Bar
In winter, the popular Get Tossed Salad Bar in Dean Street transforms into a soup kitchen, with around 20 varieties of soup on a rotation each day during the colder months.
Owner Cheryl Cornish says most of the recipes are old fashioned family favourites.
"I like to keep it relatively simple, because what people want in the middle of a cold winter's day – a big bowl of warm comfort food that's simple," Cheryl said.
"Everyone knows what a lamb shank barley soup is. Ours is made with real lamb shanks and our stocks are made from scratch. We put the love in the soup!"
Visitors will find at least two to three different varieties of soup on the menu each day, including gluten free, dairy free and vegan options.
The inspiration for the 'soup kitchen' transformation during winter comes from a humble place.
"Sunday night was always soup night growing up," Cheryl said.
"We were inspired by those age old grandma's family recipes. It was such a wonderful tradition that we've kept going through our family." And now shared with soup lovers in the AlburyCBD.
Breakfast or Brunch with Blankets at Mr Benedict
There's something quite indulgent about an all-day menu, relaxing for breakfast, lunch or brunch without the rush, at Mr Benedict in Dean Street.
There's an endless array of delectable delights, including a breakfast menu that can you build yourself, but nothing screams winter warmth like slow cooked oats, with poached fruit, chai infused yoghurt and pistachios.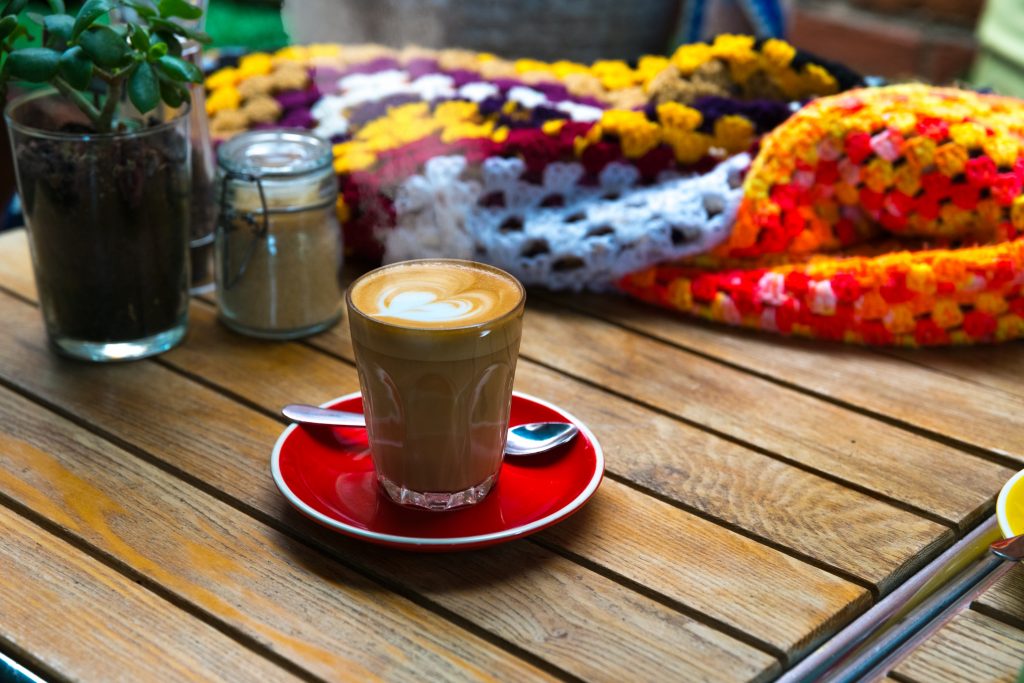 Owner Melissa Pellas says the 'warmth' extends beyond the menu.
"Our vibe is all about family and we want people to have a sense of belonging when they come in," Melissa said.
"We want them to feel it's an extension of their own home, where they come in and instantly feel comfortable and I think our customer service is bang on when it comes to that."
While it's cosy and warm inside, there's no need to avoid the courtyard, with outdoor heaters and a basket full of hand knitted blankets at the ready to drape over your knees.
Produced by Border Cafe in partnership with AlburyCBD.
Like to keep up to date with other local business, lifestyle, events news and more?  Sign up to our free weekly newsletter here and we'll deliver the latest direct to your inbox!